Choosing a daycare for your child is one of the most important decisions you make as a parent.  At Summit Children's Center, we recommend that you choose a daycare that has a reputation for a high standard of care.  Also, a stable environment and a focus on encouraging children through experience and play.  
A child's early years are a critical time in the development of their brain.  Enrollment for your child in a care center that helps them grow, develop and blossom into a well-adjusted preschooler is your highest concern.  The goal is to make sure that our children are developing appropriate social skills.  This includes the ability to cultivate relationships with other children and teachers as well as the ability to control their emotions and learn new and exciting information.  All of these things are the result, and benefit, of choosing a daycare of high-quality like Summit Children's Center.
Where to begin?
If you're like most parents, ask for recommendations on local daycare facilities and what to look for in a daycare.
If someone you know and trust recommends a childcare facility, you can rest more comfortably.  Just knowing that your family, friend or neighbor is happy with their child's school can give you relief of the anxiety you may have about daycare contenders.  A great source to check out any schools you consider to be a contender for your final list is Google Reviews.  Once you narrow your list down, its time to take a tour of the daycares you are interested in.  A tour gives you a chance to meet the staff, get a feel for the environment, routine, cleanliness of the facility and safety precautions put in place for your children.  
Choosing a childcare facility that you feel comfortable caring for your child is hard.  We recommend that you be familiar with the curriculum taught at each facility you want to visit.  We sometimes overlook the most important aspect of preschool and daycare which is education.  The right early childhood education will make a huge difference when your child goes to kindergarten.  In Lees Summit, Summit Children's Center has adopted the Emerging Language and Literacy (ELLC) curriculum.  The Missouri Department of Elementary and Secondary Education recommends ELLC.
Which features should I look for when I choose a daycare?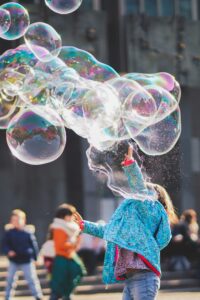 There are no federally mandated standards in the childcare and preschool industry. Accreditation and certification standards are left to the states so it's important to do your research.  It isn't enough to look at the location and cost of daycare.  When you select a daycare, consider the environment, teachers, curriculum, and nutrition program. This is just a few things to consider.  Your list may be long.  Make sure you have a list of questions when you take a tour.
You want to have a high degree of comfort with the decision you make, and you want your child to like his or her surroundings.  We feel that children need encouragement to grow and develop.  
Child supervision and appropriate teacher-to-child ratio
A childcare facility should supervise your child at all times, even if they are sleeping. Inquire as to the teacher-child ratios when you visit. An appropriate ratio of teachers to infants, toddlers, and preschool-aged children is required by the state of Missouri.
Experienced professionals
Furthermore, when it comes to choosing a daycare, there are a few things to remember in regards to early-childhood educators and caregivers. Your child's teacher should be intelligent, kind and creative.  In addition, it is important that they have experience with preschool education. Summit Children's Center's classrooms are structured in a way that allows talented early-childhood educators to help your child stay motivated to learn.
Safety and Health
Ask for policies and procedures at each daycare you visit.  Each facility should have policies on the health and safety of your child. A quality daycare center will share its policies on immunization updates, diaper changing, hand washing, injuries, CPR requirements, emergency plans, etc.
Choosing a daycare for your child is an extremely important decision.  At Summit Children's Center, we take every precaution to ensure the safety of your children, family, and our staff.    The Summit Children's Center Parent Guide was created to provide the information our parents need to stay informed.  The guide outlines our policies and some of our most frequently asked questions.
Both you and the daycare provider need to be on the same page
What happens when you decide to contribute an idea to your daycare provider? Do you and the preschool agree on basic morals and core values? Does the provider welcome the idea of being in partnership with the parents? Communication is extremely important. And there should be free and open dialogue centered on what is best for your child. Communicate frequently – with the staff at the childcare facility you select and also with your child.  Parent/Teacher conferences should be provided upon request however some early education facilities regularly scheduled meetings. The caregiver can share as to the child's progress and development and you can, in turn, communicate the goals you have for your child. 
Development and learning are the main areas of focus
Choosing a daycare that is well organized, safe, clean, and full of educational materials and toys that are appropriate to your child's age is important. Ask your teacher for a copy of the daily schedule with the activities your child will participate in.  Children love routine. A quality center has planned activities (art, music, outdoor time, story time, etc.).
Attaining high standards and being willing  to improve
Some facilities are registered. Some are licensed.  Choose a facility that has high standards of excellence. Look for a preschool that constantly looks for ways to improve their care and service. An added bonus would be choosing a daycare that asks the parents to give regular evaluations of the facility and its teachers. If your provider is committed to always getting better, chances are you have found an excellent daycare.
How to proceed if there is a waiting list
When you select a daycare center, be prepared for a waiting list. Plan ahead by getting on the list before your child starts daycare or preschool.  The sooner you make plans for your child's early education the better off you will be.  This will also help to reduce your stress in making sure that your little one can attend the Preschool or Daycare you decide on.
We hope this information is helpful to you!  Summit Children's Center is happy to answer any questions you have.  We would love for you to contact us. We look forward to hearing from you!  Children are the building blocks of our future.  Let us help your children get the best possible start in their early education.