Summit Children's Center believes in the importance of kids learning to do chores while they are young. Most kids love to learn and they will take on their chores well once they learn how to do them correctly. Keep reading for the benefits of age appropriate chores for kids.
Importance And Benefits Of
Chores For Kids
Children need to be taught ways that they can be included in the care of the home.  This is very important. Since this can make a huge difference in how they grow up, parents should make sure that they understand the benefits of chores for kids:
1.  Respect 
The chores will allow them to create respect. Kids will gain an understanding of the work it takes to maintain a clean household. With the understanding comes respect for the work you do as the parent.  
2.  Self-Esteem 
Your littles ones will be doing a job that they are rewarded for and this will make them feel good. By feeling good about themselves, kids gain confidence. Confidence can lead to better schoolwork and getting along with other kids in a great way.
3.  Discipline 
Chores for kids must be done on a regular basis with consistency.  Consistency teaches discipline to kids when they know that they have to get their chores completed by a certain day and time. 
4.  Responsibility 
Knowing that their chores are important will teach them responsibility.  They will know that they have to do these things in order to be given the privileges that they are used to. Responsibility is a huge lesson that chores for kids will help teach.
Chores for Kids
Ages 3 – 12
All children should have chores.  They should know what they are, how to do them and when they need to be completed. 
Summit Children's Center put together 15 chores for kids we recommend: 
1.  Setting The Table 
One of the chores for kids ages 3 – 12 is setting the table.  They should be able to put the place settings for each person at the table for the meals.
2.  Helping Cook 
Learning to cook is an important life lesson. Of course, the help that children can do will depend on their age and ability to do so.  They will love learning to cook with their parents so that they understand how to not only make food, but the time and effort it takes to make dinner for the family.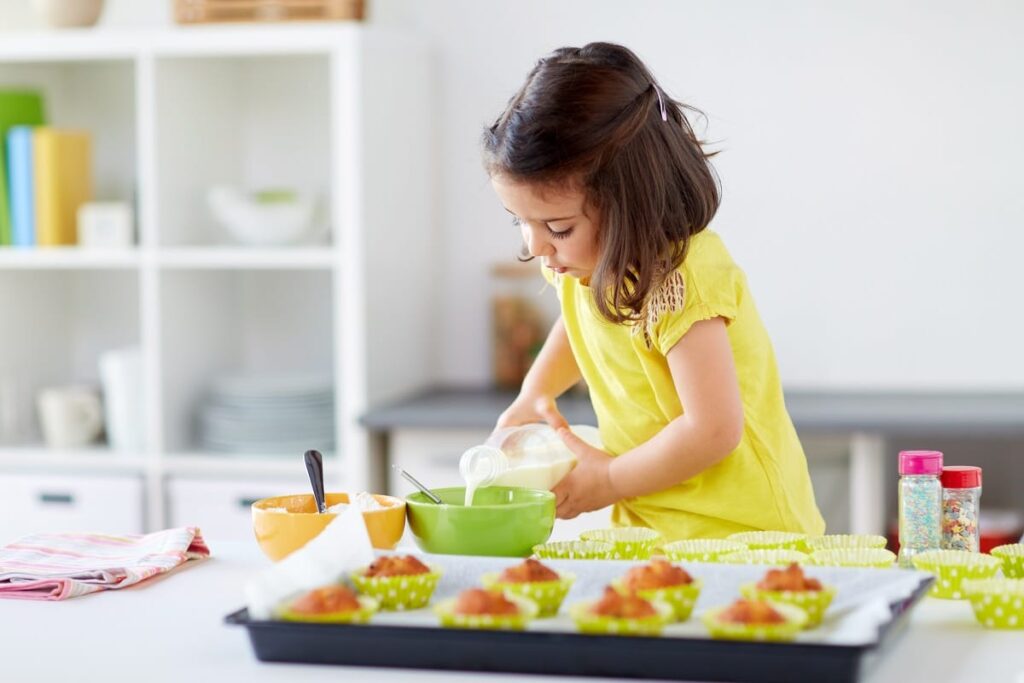 3.  Sweeping The Floor 
Chores for kids can be as simple as learning to sweep a floor. When kids learn how to sweep a floor, they feel a sense of accomplishment. They are using an electrical appliance to complete a chore and they can see the finished product when it is completed. 
4.  Helping With Wash 
Depending on the age of the child, they can assist with the wash. They will need to learn little by little how the machines operate and what needs to be sorted.  Since folding clothes is also part of this, they will want to learn how to fold them correctly. Many children grow up, move away and find out they have no idea how to wash their own clothes. Chores for kids prepare them for the future! 
5.  Putting Away Toys 
This is also part of ridding up the house.  A child should be taught to put their things away after they are through playing with them. Some chores for kids are relevant for the entire house. In any room or part of the house, make sure your children put away what they are no longer using.
6.  Dishwasher 
The dishwasher is another great chore for kids. They should become adept at loading and unloading a dishwasher so that the dishes can always be cleaned. Loading the dishwasher is one of Summit Children's Center's favorite chores for kids.
7.  Taking Trash To The Container 
Taking out the trash is a chore that all kids need to learn. They will have to do this when they are older so teaching them young is a good idea.  Once they know where, when and how to take out the trash, they will be aware that it is something that they have to do. Consistency is key for many chores for kids including taking the trash out. 
8.  Yardwork 
Along with being a part of our list of chores for kids, helping with yard work acquires children to put their screens down and enjoy the fresh air! Helping outside with bird feeders, pulling weeds, etc. are chores that kids love.  Cleaning up after playing is an important part of keeping the yard looking great.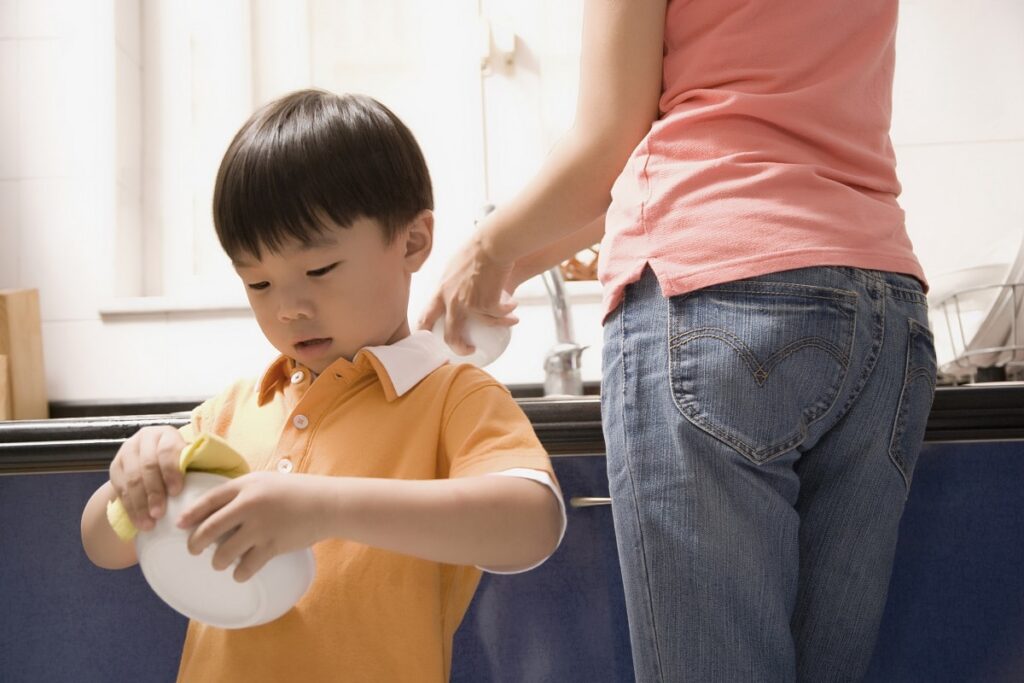 9.  Making A Bed 
Learning how to make a bed is something that needs to be taught early on.  A child should be able to make their own bed so that it is completed correctly.  Parents will have to check on this to make sure that their bed is made on a daily basis.
10.  Help Cleaning Bathrooms 
Bathroom chores for kids are necessary too.  Once they are taught, children are able to do them on their own.  They will not be able to do certain parts of the bathroom chores until certain ages, but they do need to learn how to clean the bathroom. Some chores for kids may not be fun, but all of them are necessary.
11.  Mopping The Floors 
Mopping floors is something that kids like to do.  It's important that they understand what cleaning supplies they are to use on which types of flooring.  Once they understand, they will do it well each and every time.
12.  Washing Windows 
Washing windows can be done a little bit at a time.  Once a child learns how to do them, they can be responsible for a window or two for their chore for that week.  If there is more than one child in the home, the older ones can help the younger ones to make sure that they are doing the windows properly.  
13.  Dusting 
Dusting is a chore that all kids should learn.  They should be taught to remove fingerprints from all of the furniture and learn to clean mirrors also.  Once they know what to use on different surfaces, this chore will go quickly and smoothly every single time. This will allow them to learn what it takes to keep a home looking clean so that everyone in the family can enjoy it more.  
14.  Cleaning the Car 
Teach your kids to keep a clean car. Once a month, show them the proper way to clean the exterior and interior of your vehicle. One of the most fun chores for kids we have on the list is washing off the exterior of the car! Have you children put on bathing suits and make a day of it. Cleaning the interior is just as important. One day, your kids may have a car of their own and because of chores, they will know how to maintain their own vehicle.
15.  Weather-Related 
These types of chores can be raking the leaves in the fall, shoveling snow in the winter, cutting grass in the spring and planting in the summer.  Kids love to be outside so they will most likely welcome these types of chores on a regular basis.
We hope our list of age appropriate chores for kids helps you figure out the best chores for your little ones! Children learning hard work at a young age can be so beneficial, and chores for kids are the perfect opportunity to teach work ethic and responsibility. Summit Children's Center is here to help.