Just like your children's birthdays, celebrating child accomplishments is important too! Summit Children's Center believes celebrating your child's accomplishments in school and outside of school is not only fun but beneficial for your little one. However, recent studies have shown that a family can spend up to $30,000 or more on parties and celebrations for their children before they reach 21 years of age. Obviously, celebrating with a party can be a huge source of anxiety and a serious drain on your bank account. But there's good news. You can celebrate your special child accomplishments without actually throwing a party. Brainstorm some of the following ideas with your child. You may find that the ideas prove to be great alternatives for a memorable celebration in honor of your child's accomplishments.
Child Accomplishment
Activities
Take a Camping Trip
Enjoy the outdoors. Celebrate a child's accomplishment in a big way by packing up the family and going on a campout. Pitch a tent, grab the fishing poles, and rough it for the weekend. It works even if it's your own backyard. Better yet, rent a camper for a few days and take off for a local campground. The most important thing is to leave all cell phones, tablets and other electronics at home. The key is to disconnect and spend quality time with one another. You can't put a price on it. Bring board games, ball gloves, and plenty of marshmallows for roasting. 
Enjoy a Day Trip
Hop in the family car and travel to a nearby town for the day. Look for the children's museum and a city park. This type of scenery change, if only for a day, makes your child feel special and that the trip is possible only because he is awesome. Let him decide on the route or allow him to choose between two different towns from which to visit.
Sleepover
Plan for a simple celebration, but make it a memory that lasts a lifetime. A good old fashioned sleepover can be a great way to celebrate child accomplishments. Invite your child's best friends. Instead of baking a cake and putting up decorations, head to the grocery store and pick up some great snacks. This night can be chock full of games, movies, and munchies. You'll know the party is a big success when no one actually sleeps at all.
Weekend Get-a-Way
You can actually fly out of town for less than what it might cost for an extravagant party these days. Cheap flights are sometimes as low as $50 per person one way. This would make your child's hard work and dedication seem like a giant accomplishment. If you are on a tight budget, allow for your child to pick one parent to go with them for this special occasion. Be sure to party on the flight with fun activities until you arrive at your destination.
Go To a Movie
Select a great kid-friendly movie and celebrate at the theater. Have your child select a few friends and fill an entire row at the theater. Or make it a Movie-at-Home night, and turn your living room into a movie theater. Either way, be sure to provide lots of popcorn and movie snacks. Before the movie starts, announce to everyone how special child's accomplishment.
A Night in a Hotel
Pack an overnight bag and head out to a hotel for the night. This can be a fun celebration without breaking the bank. Try the options for naming your own price for an even better deal. For an added reward, order room service and let your child feel like royalty.
Friends
Even a very informal party with friends can be the perfect way to celebrate, and it doesn't have to be too extravagant either. Think of this celebration like a playdate. Invite your child's best friends for pizza, miniature golf, or arcade games. Let your child select the way to spend quality time with their best buds. Again, let everyone know that your kid is responsible for the party. His terrific accomplishment earned this fun get-together.
Have a Family Dinner
Great memories can be made around the dinner table with family and close friends. Take your special child to one of their favorite restaurants. Prearrange a special dessert to be delivered just for the honored guest – your child.  Or plan your child's favorite home-cooked meal. Invite a select group – only those people who are the most special to your child. 
Kid's Choice
What is the one thing your son or daughter would want to do if they got to choose? Ask him and he might surprise you. He may just opt for a day of spending time with you (shopping, lunch and time in the park). If he has trouble deciding, make a list of activities and discuss them together. The only requirement is that it must include a fun celebration. 
Skating Party
Remember when you were an adolescent? Of course, you do. Skating was popular when you were a kid, and it still is. It's a great way to celebrate and most skating rinks have special occasion packages for making it extra special. Roller skating or ice skating, it doesn't really matter. The idea is to gather friends and have some fun for a few hours. Remember to have the DJ make an announcement about your child's accomplishment and play your child's favorite song.
Spa Day
Even a very young lady can enjoy a special day at the spa, right? Your daughter will love hanging out with mom and celebrating her accomplishments by being pampered with a manicure, pedicure or a new haircut. Book an appointment and make sure the stylists and technicians know that this is a special occasion. Most spas allow for drinks and snacks during the treatments. Dress up and make it special.
Take in a Game
If your child is a sports lover, take him to the ballgame. Get some tickets to his favorite sport for a celebration of his success. If there isn't a professional team, take in a high school or college game. If possible, allow your child to take a best friend along. Root for the home team, enjoy a few hotdogs, and maybe even get a few autographs.
Enjoy an Amusement Park
Celebrating child accomplishments can be a huge thrill ride. – literally. Take your son or daughter to an amusement or theme park for a day of fun. If the celebration is during cold, winter months, visit an indoor water park. How much fun is it to swim and water slide when it's snowing and freezing outside? It's great fun.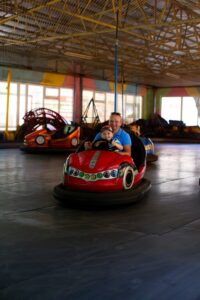 Bowling
A local bowling center is a fun place for taking your child out for a special celebration. Include a fun pizza parlor trip and it's a night to remember, for sure. Many bowling alleys also have pinball and arcade games in the lobby. It's fun for the entire family and especially for your special kid.
Summit Children's Center is happy to celebrate your child's accomplishments at preschool as well! We want every child to feel special during their daycare and preschool experience. Schedule a tour today to see how Summit Children's Center is providing the best daycare childcare in Lee's Summit.