Is there a better way to get your children ready for Christmas than with plenty of easy, fun and simple DIY Christmas crafts for kids? As the holiday season gets into full swing, take some time to bring the entire family together around the table to create handmade holiday decorations, ornaments and gifts. Summit Children's Center came up with the following craft ideas. We hope they are perfect for younger and older children. So, do not wait any longer, pour some cups of hot chocolate, gather the children together and start crafting.
10 DIY Christmas Crafts for Kids
1. Pinecone ornaments
Summit Children's Center's favorite DIY Christmas crafts for kids are as simple as walking into the yard and gathering the supplies that are needed. Once the pinecones have been found and cleaned, they can serve as the ideal base to add glitter and glue.  Have the kids work on the glittering by using a plastic container to catch the mess and to make clean up a lot easier. 
Attach wire ornament hooks to the pinecones via one of the top scales. However, if these types of wire hooks are not available, simply use a partially bent paper clip. A piece of yarn could also work to attach the pinecone ornament to the Christmas tree. 
2. Handprint Ornament
If parents are looking for a unique and memorable way to capture their toddler's palm in time, they can use a pile of homemade salt dough to create the handprint. This is a DIY Christmas craft that even the youngest of children can help with. Allow them to mix the dough, then push their hands into the dough. Once the dough has dried, they can paint the harden handprint with their favorite colors. Not only can this craft be used as a Christmas ornament, this adorable craft can also be used as gifts for grandparents and other family members.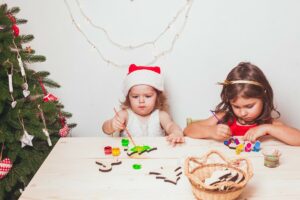 3. Gingerbread Houses 
A classic, but still one of our favorite DIY Christmas crafts for kids. There are not many crafts that are as synonymous with Christmas as gingerbread and graham cracker houses. Parents will need to be mindful that they may have to help their little ones build the structure made of baked goods. However, older children may be able to manage it on their own. 
No matter the age, both young and older children will enjoy decorating these sweet holiday houses. Be sure to supply a lot of colorful candy and frosting and allow the little ones to get really messy while working on this DIY Christmas craft. 
On a side note, Royal Icing is typically the best icing to use to adhere to the graham crackers. Although it does dry quickly, it is very sticky. 
Also, keep in mind that graham crackers are an excellent substitute if adults do not want to bake the building blocks for gingerbread houses. 
4. Sock Snowmen 
If parents are tired of searching for the lost mates of socks that have gone missing in the washer, take the odd socks that is left behind and put them to work by using them to create wintry snowmen. 
The little ones in the family will enjoy filling each one of their socks with uncooked rice or other filler material and using rubber bands to create their snowmen. Afterwards, the socks can be decorated using paint and buttons. Parents can also make sure the bottom of the snowmen stay secure by gluing or sewing the bottoms of the socks to close them.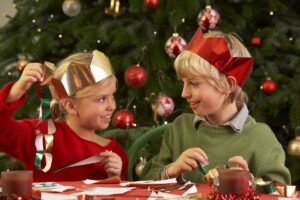 5. Santa's Sleigh 
Take a clean and empty yogurt cup and transform it into a ready to use art supply that can be made into a depiction of one of the twelve reindeer that will be pulling Santa's sleigh. Let the children paint the outside of the yogurt cups brown, and then let them glue on a pair of eyes and a nose. If they decide to add a red nose, that reindeer will be symbolic of Rudolph!  
Metallic pipe cleaners can be used for his antlers, and a group of these recycled yogurt cups turned reindeers would make a cute centerpiece. 
6. Fun Popsicle Sticks 
Parents do not have to use any markers or paint if they purchase colored craft sticks for a popsicle stick Christmas tree DIY craft. This is a craft idea that parents will need to assist their little ones with. Parents can glue the sticks together into a triangle shape using a hot glue gun, and then the children can add the decorations. Let their minds run wild as they add pom poms, small bells or glitter. 
An entire set of these can be used as a part of the home's holiday décor. In fact, they will look absolutely darling if they are strung together and made into a garland.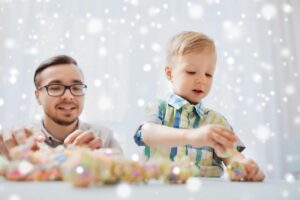 7. Santa's Little Helpers 
Challenge the children to make their own version of one of Santa's helpers by creating an elf. They can use regular paper plates for the elf's face. Construction paper can be used for the coat, hat and ears. Googly eyes and pom pom accessories can complete the look for this simple and cute preschooler DIY Christmas craft. 
8. Hand Puppets 
One of the best win-wins during the holidays for parents with children who are in the house on a cold December day is to let them create their own crafts and toys. All they will need is a simple paper bag for this simple DIY Christmas craft. 
This paper bag reindeer hand puppet only needs eyes and a red nose to complete the facial features on the paper bag. The kids can trace their hands onto a piece of construction paper. The images can then be cut out of construction paper and glued on the bag to act as antlers. This is one Christmas craft project that is so easy to complete, children will be excited to create an entire team of paper bag reindeer for Santa's big night. 
9. Snowmen in a Bag 
More DIY Christmas crafts for kids that include construction paper. For toddlers who have sensory sensitivity, the snowman in a bag is a craft that can also function as a tactile activity. Take a locked, plastic sandwich bag and use construction paper to create the facial features for the snowman. 
Glue these pieces of construction paper to the sandwich bag, and then fill the bag with white glue, shaving cream or white homemade slime. You can add some hot glue to the top of the bag to create a permanent seal. This will prevent the contents from spilling out during playtime. 
10. Candy Cane Reindeer 
Another one of our affordable DIY Christmas crafts for kids are candy cane reindeer. Older children can glue googly eyes and small red pom pom noses to the candy canes and twist brown pipe cleaners along the length of the candy canes to create the antlers. For those who want to keep the candy canes edible, opt for Royal Icing instead of glue. 
Summit Children's Center wishes you the happiest of holidays, and we hope these DIY Christmas crafts for kids make your holiday even more fun. We encourage creativity and family togetherness with these simple, fun and cute crafts. Visit us for a tour soon, and learn more about the top-rated preschool and childcare center on our website.